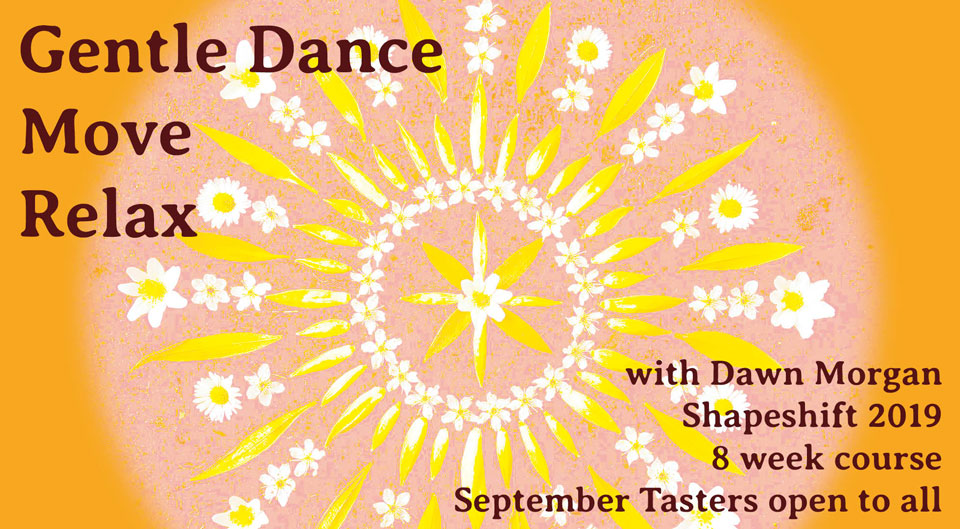 Gentle Dance, Move, Relax
with Dawn Morgan
Shapeshift 2019
8 week course 8 session starts October 22nd.
Moving with the same people over time invites deeper knowing understanding & connection. We practice self-awareness & listening through movement. 5 Rhythms®. Sharing circle. Witnessing inspired by Authentic & Amerta Movement. Somatic movement/relaxation.
Dates:
22nd October, (29th no class), November 5th, 12th, 19th & 26th, December 3rd, 10th & 17th.
Pricing:
Full Price £160; Early Bird by September 24th £130 Please book
Taster sessions
Tuesdays in September, 10am-12 at Frankies Yoga Studio, Stroud. 142c Slad Rd, GL5 1RE (park on Slad rd).
Pricing:
Once class £15 (conc)/£20; 2 classes £30 (conc)/£40; 3 classes £40 (conc)/£50. Please book
The concession rate is for students and unwaged, please be in touch for more information.
"Nothing is as strong as gentleness, Nothing as gentle as real strength"
- Goethe
We begin with 30 minutes of gentle dance to wonderful music inspired by the 5 Rhythms. We then have a check-in, in pairs or in the circle.
Following on from this is a movement session with and without music, sometimes with eyes closed, sometimes open, inspired by Authentic Movement and Prapto's Amerta Movement. Usually this part of the session is witnessed, which means that you are being seen moving by someone else in the group who is practicing being a non judgemental presence who may, with your agreement, offer reflections on your movement. Not advice or guidence, rather offering something that they see you do.
This can be very healing and affirming, the form creates a depth of safety and permission to be how we need to be, moment to moment, movement to movement. The experience can be liberating and builds self confidence and body awareness. We complete the session with either a Somatic Movement practice or guided relaxation.
"Participation in the Gentle Dance sessions enabled me to move gently, mindfully, through the weeks of a tough house move. Very gently I was stretched, challenged, given space, heard, seen, encouraged.
Dawn's highly skilled facilitation held us as we relaxed into deeper awareness of all that we are. I am filled with gratitude and wonder. Elizabeth
Booking
Any queries email: dawn@shapeshift.co.uk
Payment possible by bank transfer (Account no. 40922402 Sort code, 09-06-66, please reference the payment with "GDMR" and your first name so that I can identify the payments), or pay via paypal selecting from the dropdown menu below the amount that is right from you, and click "Buy Now".