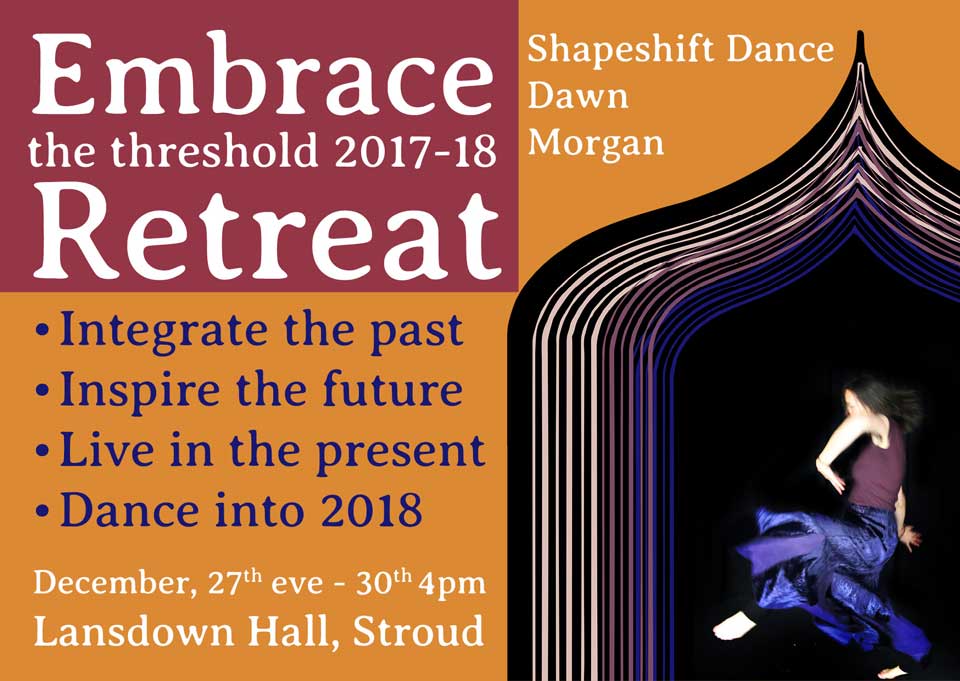 Embrace the Threshold Retreat
2017-8
December, 27th eve- 30th 4pm
at the Lansdown Hall, Stroud, Gloucestershire, UK
Each day we will dance,the 5 Rhythms, practice nourishing body work and somatic movement exercises, take time out to write and rest . There will be a dreaming circle, singing and a gentle ritual. This retreat is where we can 'catch up' with ourselves and feel ready for the year to come. The intention is deep nourishment and to engage, energise and inspire body mind heart and soul.
Price
£180, Early Bird by 1st December £150
Lunch & one evening meal included.
If you'd like to attend the New Years Eve Dance and Chill the following night then there is a reduction in the ticket price available to you when you book both events, see below.
Dawn has taught similar retreats in the UK and abroad, she has been working with movement and ritual for over 20 years, is 5 Rhythms Heartbeat trained, has an MA in Somatic Education and has completed a 4 year training with Ray Castallino in trauma and early imprints.
Booking
To book.
Pay, either by making a bank transfer (Account no. 40922402 Sort code, 09-06-66, please reference the payment with "Embrace" and your first name so that I can identify the payments), or pay via paypal selecting from the dropdown menu below the amount that is right from you, and click "Buy Now".
Then register using the form below.