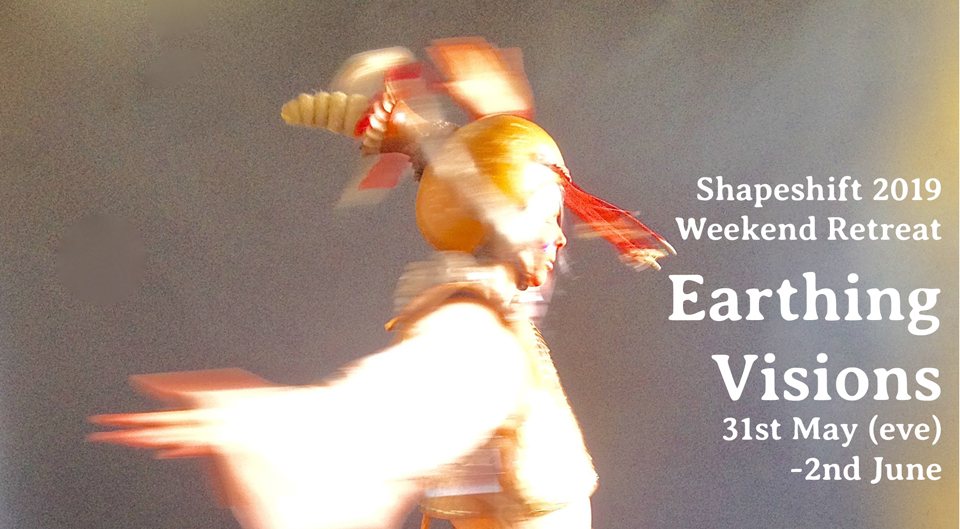 Earthing Visions
Shapeshift 2019 Weekend Retreat
with Dawn Morgan
assisted by Helene Su, Arushka W. Pollard & Joseph Rose
31st May (eve) -2nd June
At the Lansdown Hall, Stroud, GL51BB
Friday 7.30-9.30pm,
Saturday 10-4pm & 7.30-9.30pm
Sunday 10-4pm
Working with movement, dance, drum journey, somatics and Joanna Macy's Truth Mandala. Clear the space, call for dreams and visions - personal and collective, explore bringing them to earth.
What do we dream of for ourselves and our world? What is working well, can we give attention to the good stuff? What are our hopes and fears? What is in the way, what needs addressing, processing or transforming so that we can take a next step? What and who supports us?
Perhaps we feel lost and need to call for a vision, perhaps we have a vision and don't know how to bring it to earth, perhaps we are so busy, worried or full up or feel too over whelmed to enjoy life's unfolding journey. Perhaps all is well and we would like to take some time for nourishment inspiration, self-care and support.
Maybe we feel the need for some wildness to express our joy and passion. This in an invitation to explore the world of symbol, earth magic, imagination, dreams and ritual. Maybe we are in need of gentleness, acceptance of our pain, passion, sorrow and all that we are. Perhaps there is a need to really move, get physical, get closer to the natural life force accessed when we dance.
This is an invitation to our ordinary and extraordinary humanness, our sacred selves, our challenges and our beauty. An invitation to come together to explore what it means to Earth our Visions.
Timetable
Friday
7.30pm-9.30pm dance and opening ritual working with Joanna Macy's Truth Mandala

Saturday
10am-1pm dance clearing space
1pm-2pm lunch bring food to share
2-4 somatic movement and enquiry
7.30-9.30pm blindfolded trance dance and drum circle

Sunday
10am-1pm dance
1pm-2pm lunch
2pm-4pm integration
Biographies
Dawn has been working with movement dance, ritual and ceremony for over 25 years, 'I am curious about where the personal and collective collide and the importance of making space for the visions each of us holds'.
Helene - I have danced for as long as I can remember. First with intensive ballet for eight years before discovering freeform shamanic dance. For over 25 years dance has been my healing tool and I have studied with seminal teachers from far and wide. I have an MA in Dance and Somatics, am a qualified Hatha Yoga teacher, Body worker and Reiki Master and have been teaching and evolving my work for 15 years.
Arushka is a Movement Medicine Apprentice, having begun her journey with conscious dance practice 9 years ago with 5 Rhythms. She is a professionally trained actor and has over 10 years experience with Alexander Technique.
Joseph Rose is a group leader, story teller, activist, musician, DJ and founder of emerging story. He is newly elected District Councillor for the Green Party, has supported the formation of the UK YouthStrike movement and has volunteered for the Pachamama Alliance for over 10 years as a Be The Change facilitator.
He is deeply passionate about cultural story work, believing it to be an integral and often overlooked part of the environmental movement. He finds his inspiration in the movement of young people stepping up to make a difference.
Booking
Price: £160 £130 early bird by May 10th Please bring food to share for lunch.
Pay, either by making a bank transfer (Account no. 40922402 Sort code, 09-06-66, please reference the payment with "EVISIONS" and your first name so that I can identify the payments), or pay via paypal selecting from the dropdown menu below the amount that is right from you, and click "Buy Now".