Dancing with Horses
Courses in 2016:
Thanks to the dancers!
The next retreat is 25th- 29th July Dancing with Horses at Heartshore in Stroud. No experience necessary to join us and those with experience are welcome. This is the third of a series of 4 workshops following the map of the 5 Rhythms with the horses. We invite you to come to any of the modules individually. Please be in touch for booking information and to find out more.
For all modules please accept our invitation to arrive the afternoon/ evening before we begin and leave the day after we finish, this will allow essential time for settling and transition time, this is very important.
July 25th- 29th (arrive 24th, leave 30th) - £550. Themes incude: moving as a herd/interconnectedness, fluidity, celebration and transformation
September 5th-11th (arrive 4th leave 12th) - £770. Themes include: community cotcreation, completion and spirit.
There is very basic accommodation available at Heartshore and camping, otherwise there are B&B/Hotels nearby. We will provide soups for lunches and some evening meals.
We will work individually with each participant to support their development as well as with the group as a whole.
Below is a Video showing a more indepth look into how we've been working:
Horse Dancing Open days
To be arranged for 2016
Price £120 (some concessions available please enquire in good time!)
With Dawn Morgan & Dawn Oakley-Smith.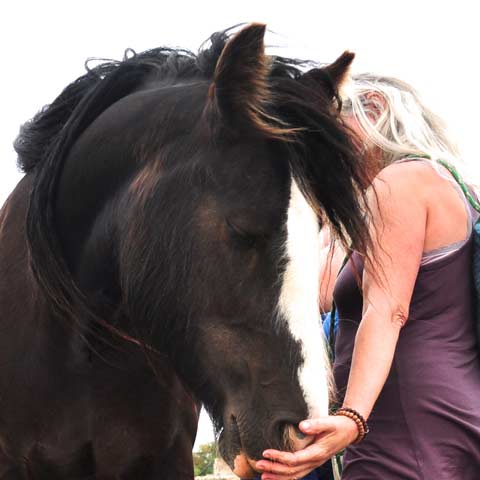 A day of remembering and valuing what is wild and present in us, an opportunity to connect to wild nature & presence, through music, movement, dance and the Heartshore Herd.
Horses bring us into the moment, they do not wear masks of nicety or deceit, they have huge and compassionate hearts. Horses are expert teachers of boundaries and presence, they have so much to teach us when we learn how to listen and to dance with them.
You are warmly invited to join us for a special open day at Heartshore Stables in Stroud.
The timetable (open to changes!) may be as follows:
10am

Coming together for an introduction and a movement session Part 1

12 midday

Meet the Herd Part 1.


1pm

Lunch


2pm

Boundaries demo and Dancing with Horses demo


3pm

Movement session outside, Part 2 & meet the Herd Part 2.<

4pm

Drum Journey

4.30pm-5.30pm

Questions and answers and closing circle.
At Heartshore the horses live in a herd, and are kept as naturally as possible. Dawn Oakley-Smith is the owner she trained with Monty Roberts and worked with Rupert Isaacson (who made the Horse Boy film). She has developed her own style, specialising in working with horses, children and young people with Autism and their families. She also teaches the 'Epona' work and offers one to one sessions. www.heartshore-horses.co.uk dawnoakleysmith@live.com
Dawn Morgan has been teaching movement for over 20 years she is 5 Rhythms trained with an MA in Dance and Somatic Education, she is currently training with Ray Castellino to work with Early Imprints. She has been a visitor at Heartshore for 12 years.